What is a Fine Art Giclee print?
Fine Art Giclées offer the best alternative to buying an original artwork which may not be available for sale, or out of reach financially.
Giclées are high end technology prints, that represent the very best standard in fine art reproduction - far superior to all other forms of printing. They are sold as artist Signed and Numbered Editions as well as Unsigned, Un-numbered Open Editions to the dealers and collectors market. Artists hand-embellIshed Giclées are recognised as works of art in their own right.
Using the highest quality archival papers and pigmented inks (not dye) that demonstrate longevity with fade-resistant colours, they are considered to be as close to the original artwork that is possible in print. This is because, in Giclée printing, no screen or other mechanical devices are used and, therefore, there is no visible dot screen pattern. The Giclée printing process provides better colour accuracy than other means of reproduction. Generated from high resolution scans, the image has all the tonalities and hues of the original painting. And displays the finest of detail.
ABOUT THE SINGH TWINS COLLECTORS FINE ART GICLEE PRINTS
The Singh Twins Collectors Fine Art Giclée Prints are produced, one off, to order under careful supervsion of the artists. Currently offered at 20 inch size (on the smallest dimension) there are two options available :
OPTION 1 - UN-SIGNED OPEN EDITION
❋ Image size - 20 Inches (on the smallest dimension)
❋ Printed on 100% cotton, acid free, paper with proven UV stable, archival quality, pigment inks for absolute light-fast quality and long durability.
❋ Bears 'The Singh Twins' authorisation emboss mark
❋ Comes with artists' hand-signed Certificate of Authenticity.
OPTION 2 - ARTIST SIGNED & NUMBERED EDITION
As Option 1 above, plus:
❋ The print is hand signed, numbered & dated by the artists
❋ Only 25 produced for collectors Worldwide at the 20 inch size
NB- Giclées are delivered un-framed rolled in a tube. The image, top right, is for illustration purposes only.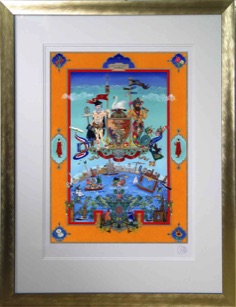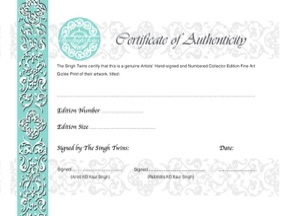 'The Singh Twins' authorisation emboss mark