BUY / COMMISSION
ORIGINAL ARTWORK
NB. International Postage (outside UK) - Items may by subject to custom's processing depending on the item's custom value. Buyer should be aware of possible:
- Delays from Customs inspection.
- Import duties and taxes which buyers must pay.
- Brokerage fees payable at the point of delivery.
Your county's Customs Office can offer more details
Delivery Time
Please allow 14-28 days for delivery depending on the level of demand at the time of purchase. If you require urgent delivery please contact us to check whether your deadline can be met before you place your order.


DELIVERY INFO
Dvds are delivered using the following service:
UK - Royal Mail Standard 2nd Class service
EUROPE - Royal Mail International Standard service
REST OF WORLD - Royal Mail International Signed & Tracked service

Nineteen Eighty-Four and the Via Dolorosa Project
DVD
Nineteen Eighty-Four and the Via Dolorosa Project
DVD - Product ID: DVD_1984
Product Description
This semi autobiographical art documentary film explores the making of and inspiration behind Nineteen Eighty-Four - one of the most celebrated paintings created by The Singh Twins, which depicts the Indian Government's military attack on the Sikhs' holiest shrine at Amritsar, in June1984 - and presents a very personal perspective on what many regard as one of the most tragic and misrepresented events in modern Sikh history. In their aim to raise awareness about the human rights abuses and atrocities perpetrated against the Sikhs - both, during the attack on the temple itself and in November the same year, when Indian Government Officials instigated the open massacre of thousands of more innocent Sikhs across India's Capital of Delhi) - the film combines archival footage and stills, details from their painting and poetry to convey the deep sense of devastation, injustice and betrayal felt by the global Sikh community. It also relates the Sikh experience of suffering in 1984 to the Christian tradition of the Suffering of Christ ('Via Dolorosa') - thereby presenting the Sikh sentiment through the eyes of a faith much more widely understood in the world today.
Product Details
Writers/Producers/Directors: The Singh Twins
Format: NTSC
Language: English
Region: 0
Aspect Ratio: 4:3 & letterbox
Number of discs: 1
Classification: PG
Studio: Momentum Pictures
Run Time: 48 mins approx
Bonus Features:
❋ Interview with The Singh Twins
❋ Film Trailer
❋ Artwork and Poems selection
Also includes an illustrated booklet of the poems featured in the film.
"THE STORY OF A PEOPLE MARKED BY AN ATROCITY
FORGOTTEN BY HISTORY, IMMORTALISED THROUGH ART"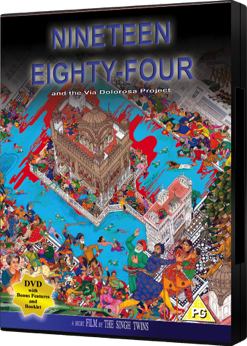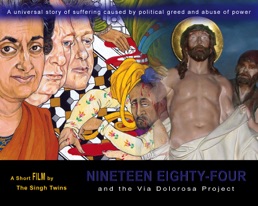 PLEASE ORDER ACCORDING TO YOUR DELIVERY ADDRESS
Price includes Delivery - excluding any import duties that may be applicable for orders outside UK. Please see 'DELIVERY INFORMATION' below.