BUY / COMMISSION
ORIGINAL ARTWORK
Indigo:The Colour of India (Slaves of Fashion Series)
TAPESTRY ARTWORK
Size - 1125 x 2550 mm
Only 10 created worldwide
£ POA Please email:
[ONLY 6 LEFT ]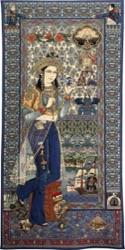 SHOP > TAPESTRY ARTWORKS > Signed and Numbered Edition > Indigo: The Colour of India
Kashmiri Shawls: From Punjab to Paisley (Slaves of Fashion Series)
The region of Kashmir in northern India was known for fine shawls. Kashmiri weavers used the wool of mountain goats, still known today as 'pashmina' or 'cashmere'. Shawls made of cashmere were soft, warm and beautiful. From 1770 onwards, fashionable women in Europe wanted one: the ultimate status symbol. The hand weavers of Kashmir took over a year to make one shawl. They were costly. Soon, makers in Russia, Scotland and France set up factories to copy the Kashmiri originals. Mass production made shawls cheaper and allowed more women to wear them. The figure in this artwork is dressed in traditional Russian costume. She holds a shawl made in Russia, inspired by Kashmiri shawls. Flowers in the background and border of the artwork symbolise the countries where shawls were made. The camomile daisy at the top of the artwork is the national flower of Russia.
20 INCH COLLECTORS FINE ART GICLÉE PRINT
Product Details
Image Size: 20 x 40 inch (508 x 1016 mm)
Paper Size: 24 x 45 inch (609.6 x 1143 mm)
Product Description
OPTION 1 - UN-SIGNED OPEN EDITION
❋ Image size - 20 Inches (on the smallest dimension)
❋ Printed on 100% cotton, acid free, paper with proven UV stable, archival quality, pigment inks for absolute light-fast quality and long durability.
❋ Bears 'The Singh Twins' authorisation emboss mark
❋ Comes with artists' hand-signed Certificate of Authenticity.
❋ Un-mounted and un-framed
Product ID: GC-Un_SOF-Kash
OPTION 2 - SIGNED & NUMBERED EDITION
As Option 1 above, plus:
❋ Hand signed, numbered & dated by the artists
❋ Only 25 available Worldwide at the 20 inch size
Product ID: GC-S_SOF-Kash

PRODUCTION TIME
As a bespoke piece, production and delivery takes around 2 - 6 months, depending on the demand and the time of year when ordered. So, please enquire about the likely delivery time before ordering if you have a specific deadline.
FUTURE TAPESTRIES
Eventually, we hope to make all 11 symbolic portraits from the 'Slaves of Fashion' series available as Tapestry Artworks.
TAPESTRY ARTWORK - ARTIST SIGNED & NUMBERED EDITION *
Indigo: The Colour of India
Product ID: TAP_SOF-Indigo
Product Details
Size: 1125 x 2250 mm (44.29 x 88.58 inch)
Please note: this is the un-hemmed size and is approximate due to the fact that fabrics in general may shrink or expand slightly after weaving.
Product Description
This Tapestry Artwork is a translation of The Singh Twins' 'Slaves of Fashion' mix-medium digital lightbox artworks series - offering a more pastel pallette reflecting their unique medium. Finely woven in Italy using cotton and viscose blend with details highlighted in gold lurex thread. Backed in cotton fabric and fully hemmed with two rod pockets - one at the top for hanging and one at the bottom for weighting if required.
* Only 10 of this artwork at 1125 x 2250mm size, are
being offered for sale to Collectors worldwide.
Each tapestry is hand-signed, numbered and dated by the artists.
And is accompanied by an artist hand signed Certificate of Authenticity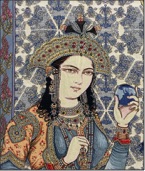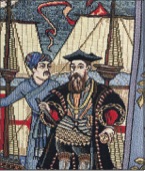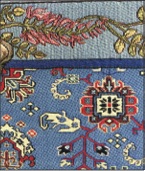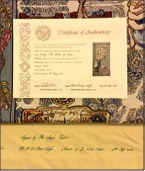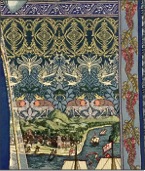 Click on a thumbnail detail to enlarge